Introduction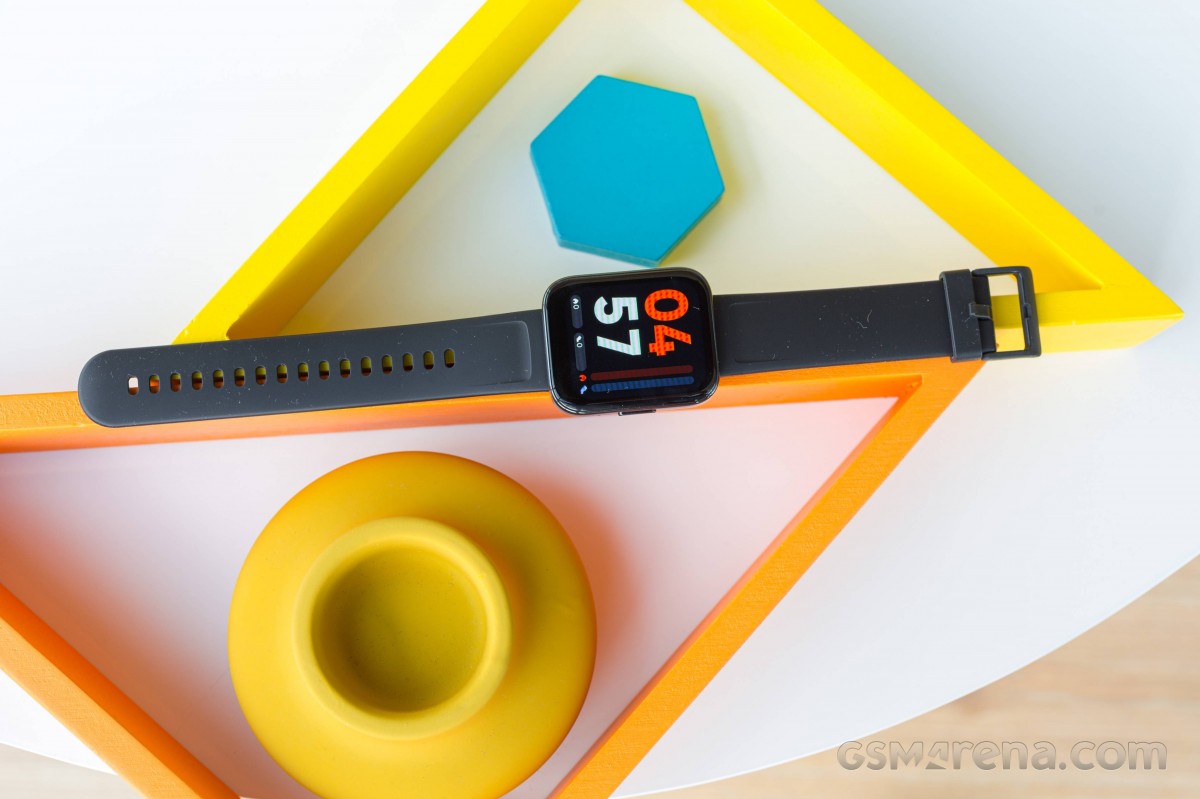 This year's model gets an overhauled design with a larger screen, squared-off edges and Bluetooth calling while still providing the usual sports and activity tracking for INR 3,500 ($44/€44). How does the Realme Watch 3 stack up against the competition and do the new features make it a worthy upgrade?
Realme Watch 3 specifications
Display: 1.8″, 240 x 286 pixel color screen, 323ppi pixel density, 500 nits peak brightness, 2.5D Gorilla Glass 3
Straps: Detachable silicon straps, 22mm width, 130-220mm adjustable length
Features: IP68 rating, Bluetooth calling, speaker, Real-time heart rate monitor, 24/7 SpO2 monitor, Sleep tracking, Stress monitoring, Sports tracking, VO2 Max, Step Counter, Meditation, Smart Notifications, Idle Alert, Drink Reminder, Phone Finder, Weather Forecast, Music and Camera Control
Sports Modes: Outdoor Run, Indoor Run, Outdoor Walk, Indoor Walk, Outdoor Cycle, Indoor Cycle, Strength Training, Football, Yoga and Cricket (100 more in Realme Link app)
Sensors: PPG optical heart rate sensor, SpO2 sensor, 3-axis accelerometer, Rotor Vibration Motor
Connectivity: Bluetooth 5.3, Compatible with Android 5.1+ and iOS 11+
Battery: 340 mAh
Colors: Black, Grey
Dimensions: 45 x 37 x 11.5 mm
Weight: 40 grams
Design
Realme Watch 3 looks more premium than its predecessor though the body is still entirely plastic. The sides are now flat and feature a shiny finish that looks like a metal alloy from a distance. We have the black color variant for our review here which has an interesting gunmetal look.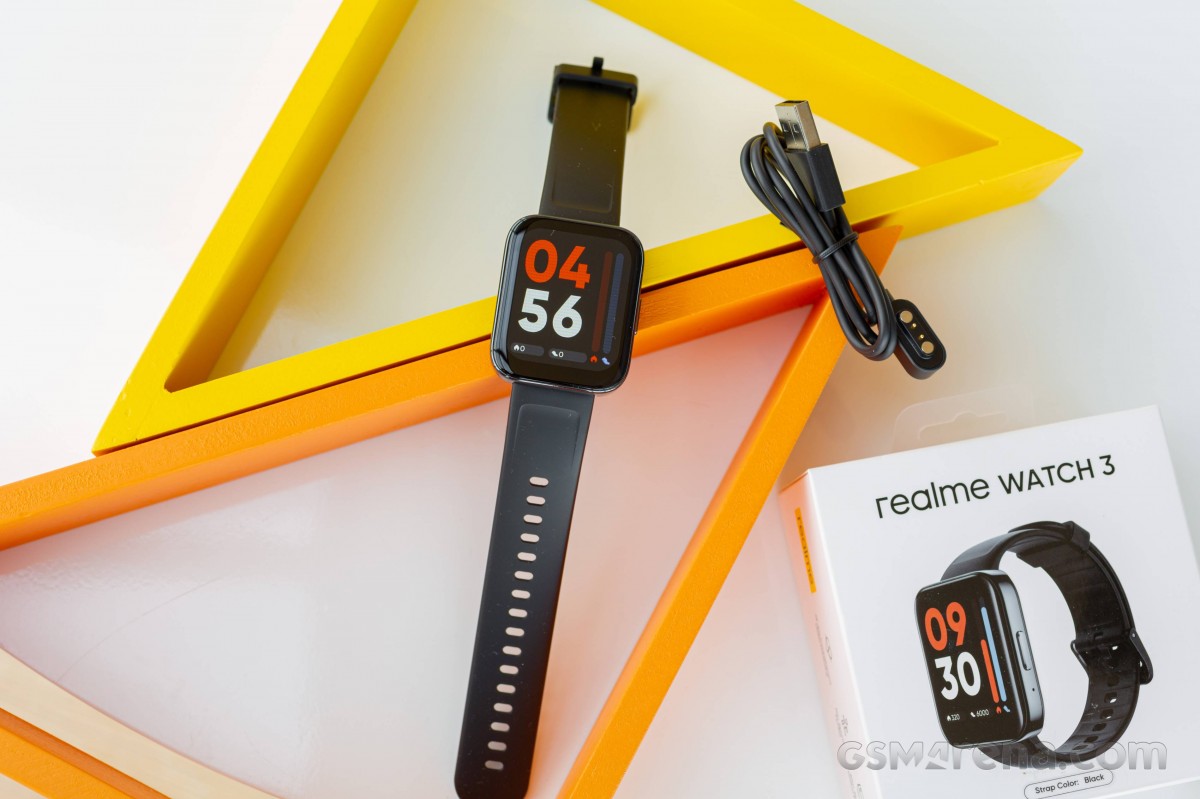 Realme is also selling a grey variant that offers a lighter shade on the casing and a lighter-colored watch strap. Speaking of the watch strap it's made from a durable silicone material and is of the standard 22mm variety so you can swap it for any other band you may have laying around.
The watch weighs just 40 grams, making it comfortable to carry all day. There's a single button on the right side that can wake up the watch and also act as a back button. You also get a microphone on the same side while the speaker is located on the left.
The LCD panel on Watch 3 has grown to 1.8 inches up from the Realme Watch 2's 1.4-inch diagonal though the resolution count has taken a hit at 240 x 286 px while last year's watch had a sharper 320 x 320 px output. To be fair, the difference isn't noticeable in day-to-day use but it's still weird that the newer model watch has a lower resolution screen.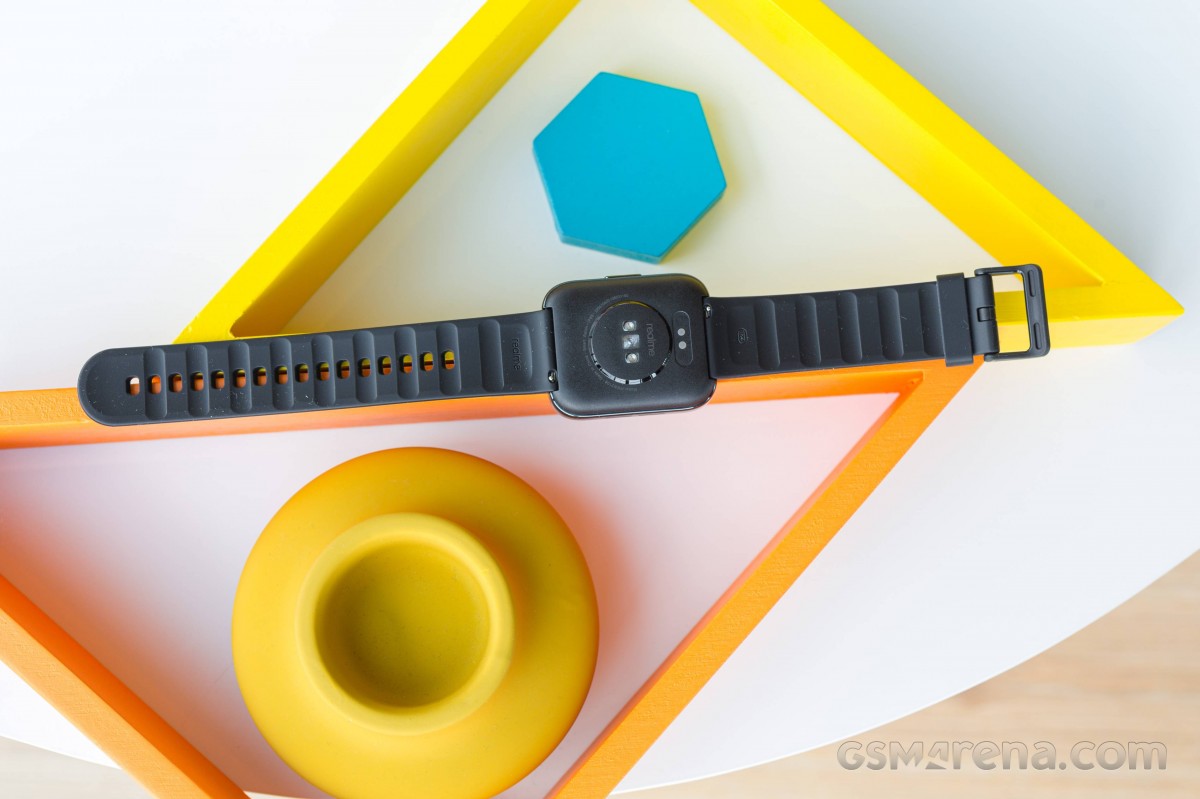 Unlike OLED screens on some competing smartwatches, there's no Always on Display (AoD) functionality on the Watch 3 due to it being an LCD panel. The screen also lacks auto-brightness so you'll need to manually select how bright you want to screen. There are four brightness options ranging from 20% and I found the 40% option as perfectly usable in most cases even while outdoors and in direct August sunlight. Peak brightness on the Watch 3 is 500 nits which is good enough though last year's Realme Watch 2 did get brighter with its 600 nits peak brightness.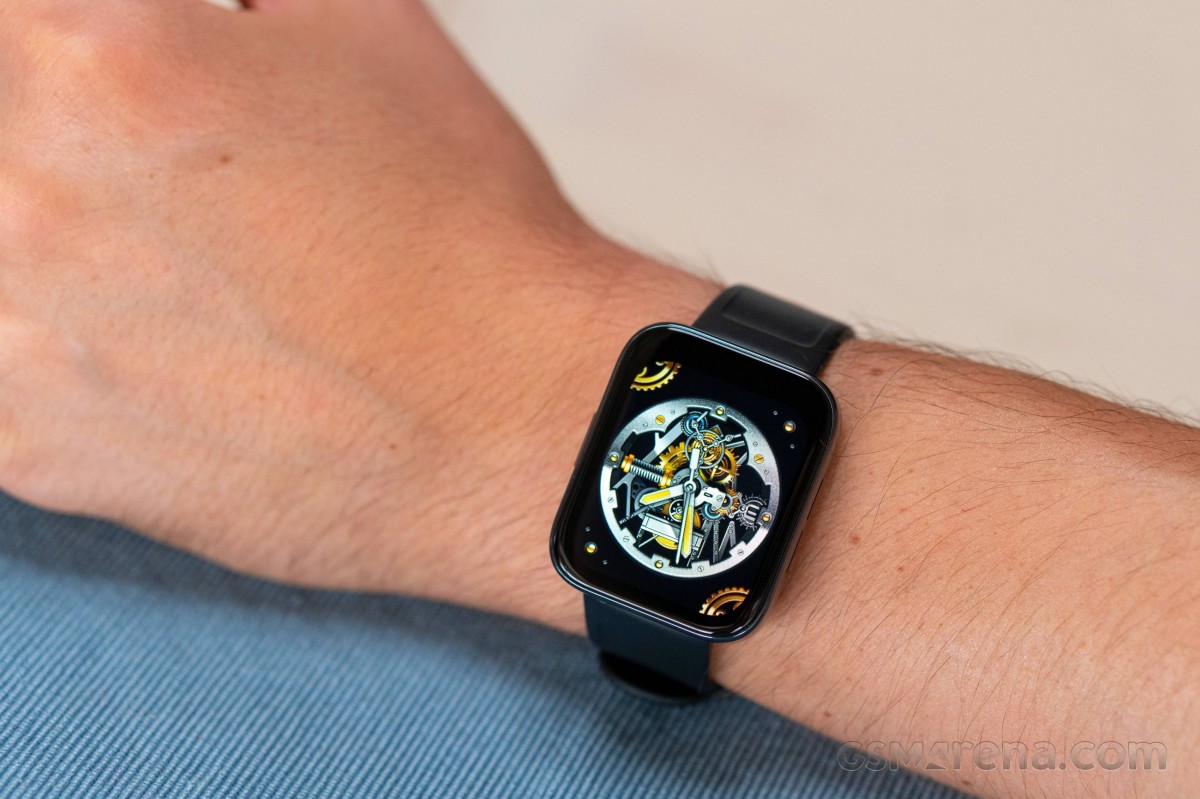 While Realme Watch 3 is IP68 water and dust resistant, the device is not suited for showers and swimming so take that in mind. The retail package consists of the watch, a proprietary two-pin magnetic charger that ends in a USB-A cable.
Features
Like most recent smartwatches, Realme Watch 3 brings 24/7 heart rate monitoring as well as continuous SpO2 tracking, stress and sleep monitoring. The watch also tracks over 110 sports and activities. You can have 16 sports modes on the watch at a time while swapping one mode for another requires going into the Realme Link app on your phone.
Realme is also offering over 100 watch faces via the Link app that sync to the watch in a matter of seconds. You can only have four watch faces on the watch at a time though and you'll have to delete existing ones if you want to add more. The watch also has a bunch of useful features like an alarm, weather widget, reminders app, music controls and the ability to act as a Bluetooth camera shutter.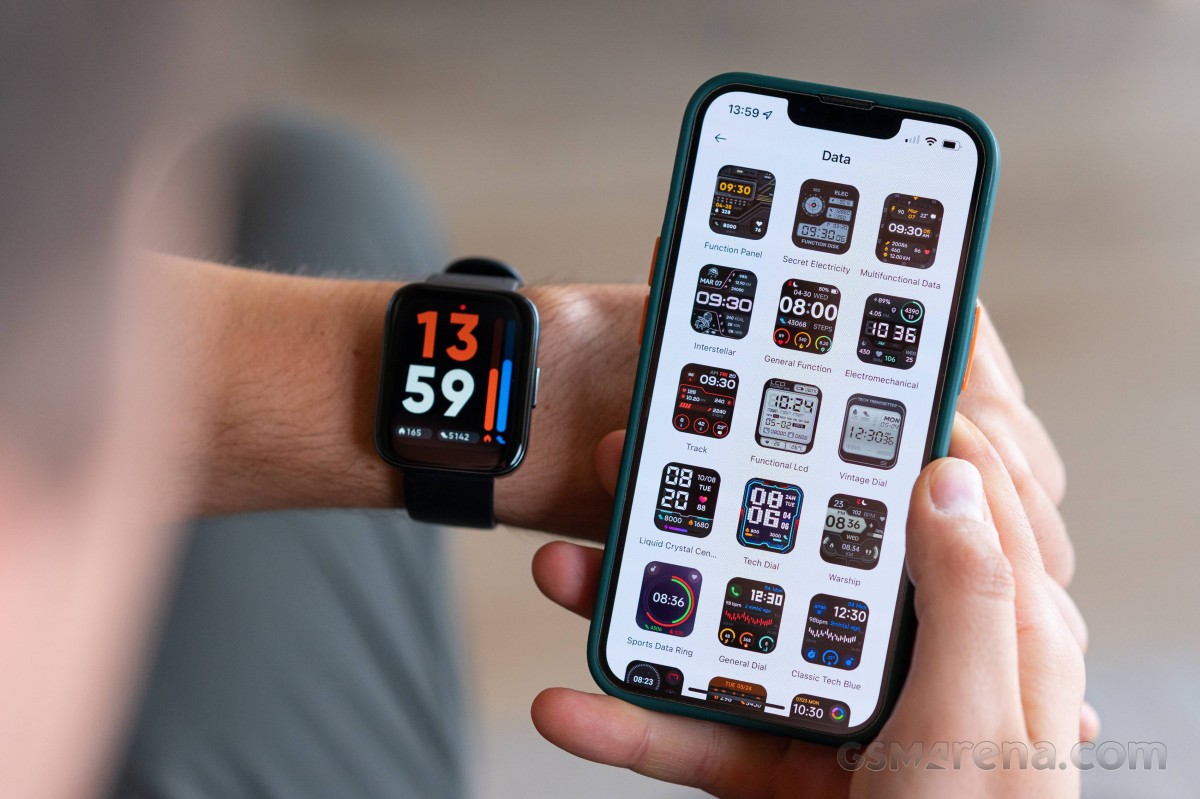 Aerobic workouts like running and cycling get specialized workout results that determined your exercise intensity level and help you reach new target goals. Watch 3 also provides recovery times recommendations based on your most recent workout and VO2 max measurements to give you a better feel of your workout efficiency. There's no built-in GPS receiver on the watch though your phone's antenna should provide more accurate results anyway.
Bluetooth calling is one of the new features on the Watch 3 that was not available on prior Realme Watch models. You set it up right after the initial pairing process in the Realme Link app on your phone and you can sync your favorite contacts on the watch for easier dialing. There's no user-accessible storage on the watch to store music or other files which would have been a nice feature given the onboard speaker.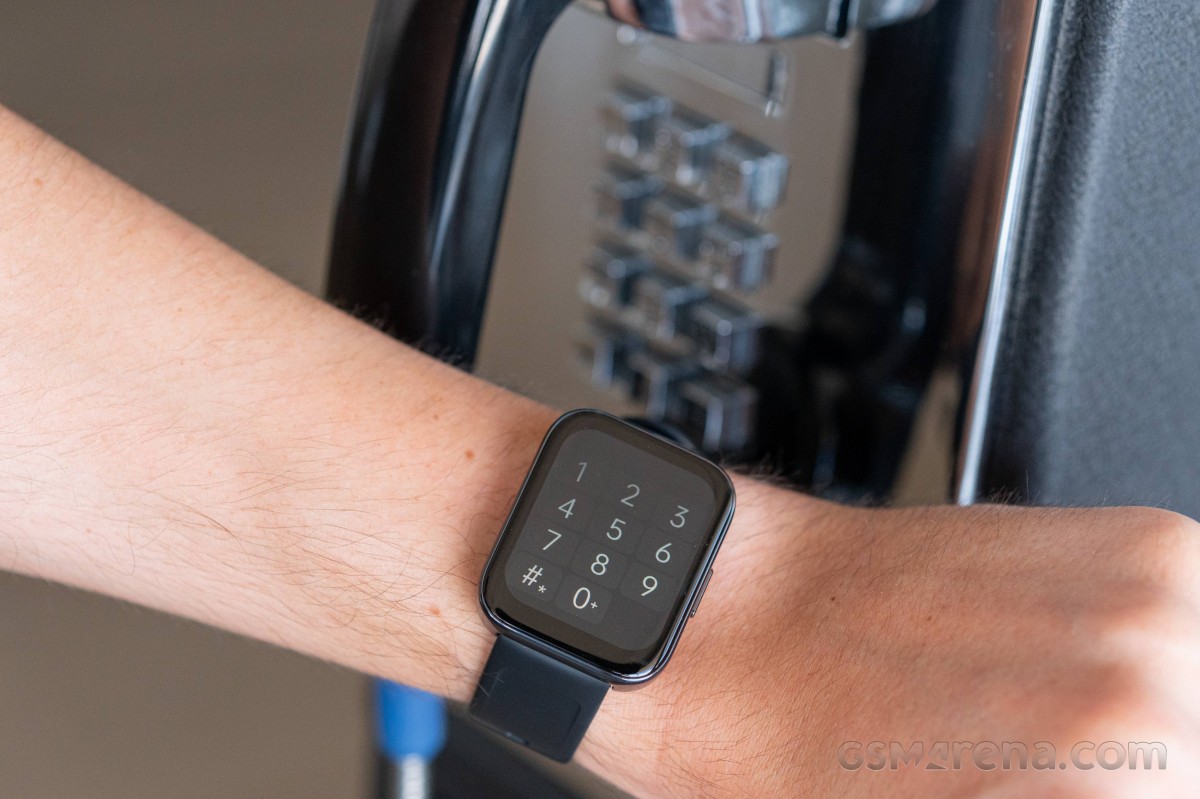 The vibration motor gets the job done though haptics feel a step less convincing than some of the more premium watches we've tested. There's a larger 340 mAh battery pack here compared to the 315 mah cell on the Realme Watch 2 and you can head over to the battery segment to see how it performed.
Performance
Navigating the interface feels smooth and responsive with UI animations running lag-free. Like the rest of Realme's watch portfolio, Watch 3 runs a basic proprietary operating system with several bare-bones pre-installed apps. You navigate the watch via swipes with the side key serving as a back button. One thing that is missing is a double tap gesture to wake up the screen.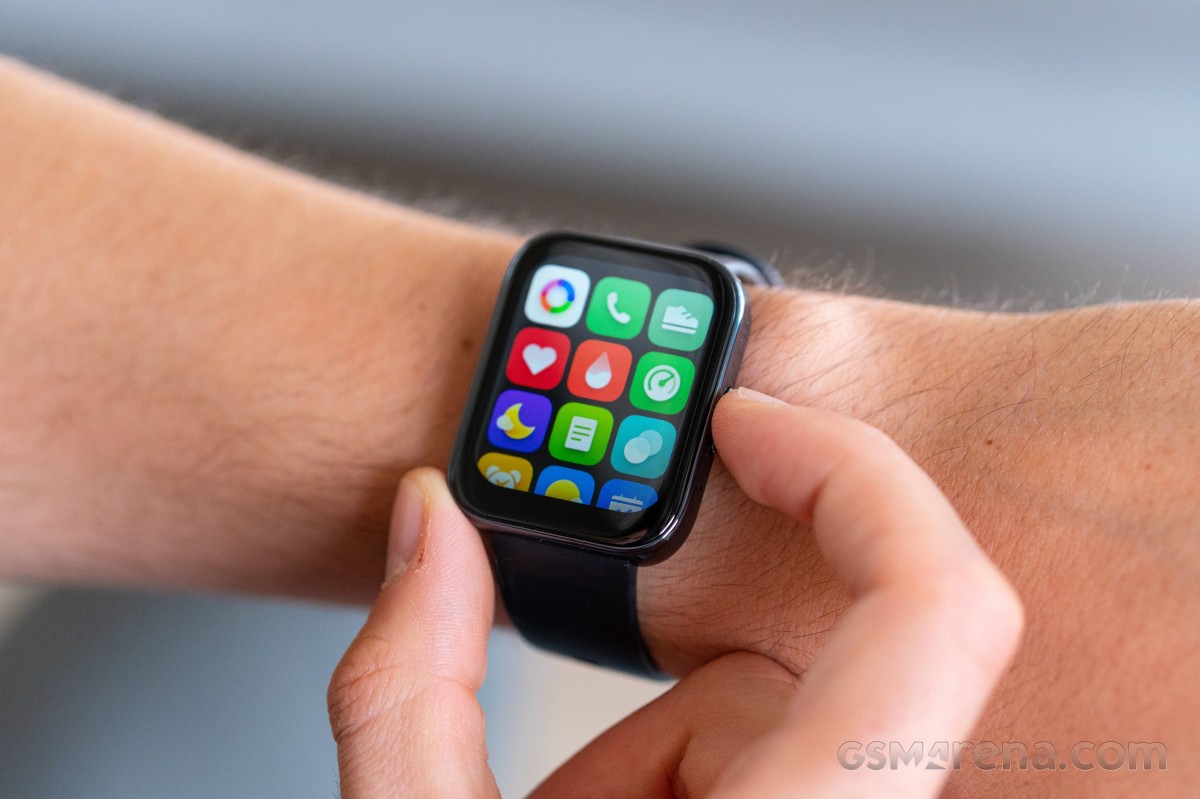 The 24/7 heart rate monitoring as well as continuous SpO2 and stress monitoring perform just as well as on more expensive watches. Instant heart rate and SpO2 readings are fast and easy to record. Workout data is displayed in a nice manner with large scrollable metrics.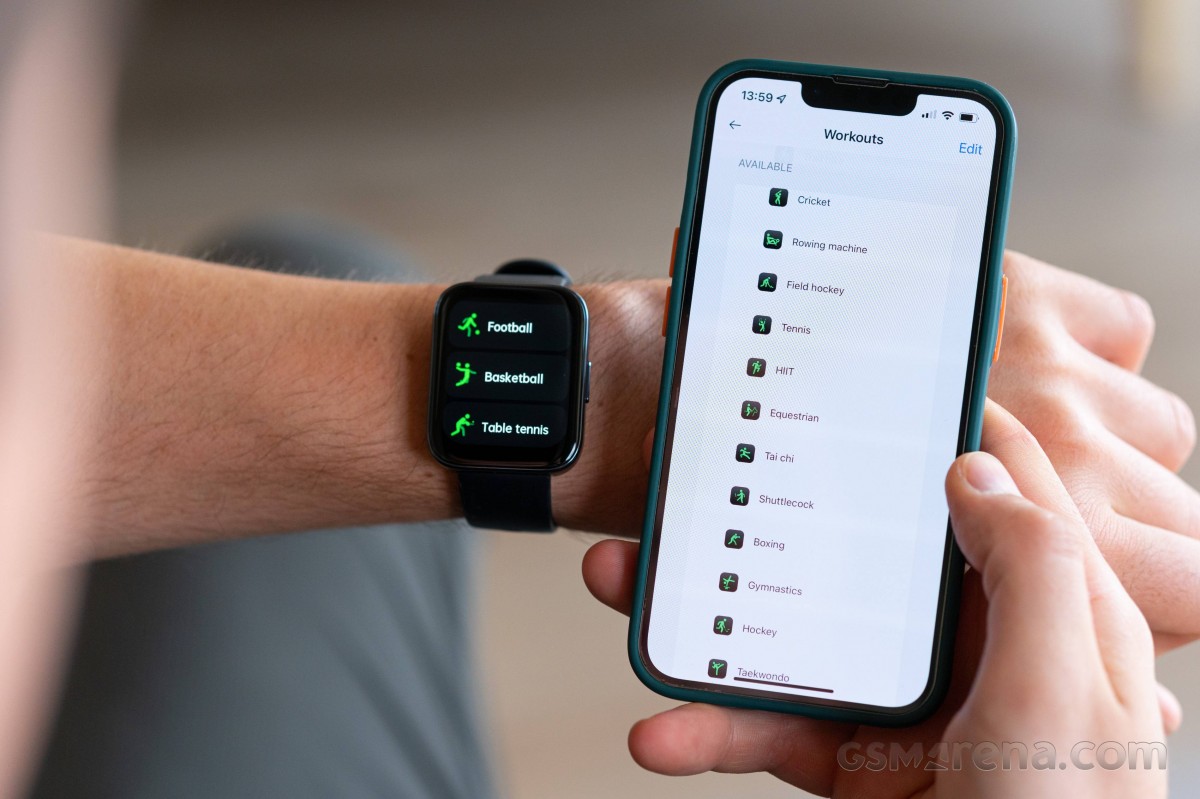 Cardio workouts get useful information like average pace, calories burned, average cadence (steps per minute), average stride, total steps and average speed. I did encounter a few instances where the watch would restart itself during several training sessions which resulted in lost workouts so hopefully, this will be fixed with future software updates. There's no built-in GPS receiver on the watch though the one on your paired phone should provide more accurate results anyway.
Sleep tracking results did show accurate go-to-sleep and wake-up times. Like most other watches on the market Realme Watch 3 also offers a sleep breakdown by category with rapid eye movement (REM) included.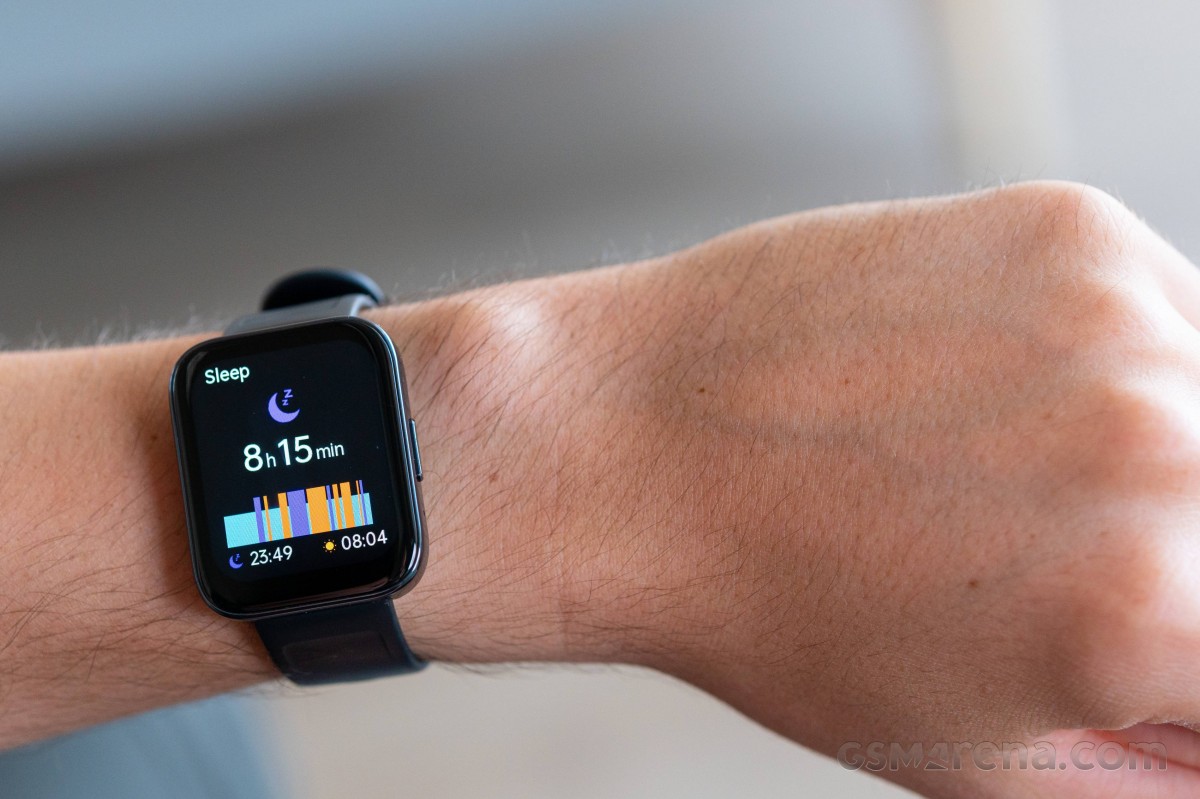 All health and activity data is accessible on the watch which does not let you compare values over longer periods of time. The Health tab inside the Realme Link phone app brings detailed breakdowns of your health and activity metrics allowing you to compare up to a month's worth of data. You can also export your workout session results as images to share with friends or keep track of your training regimen.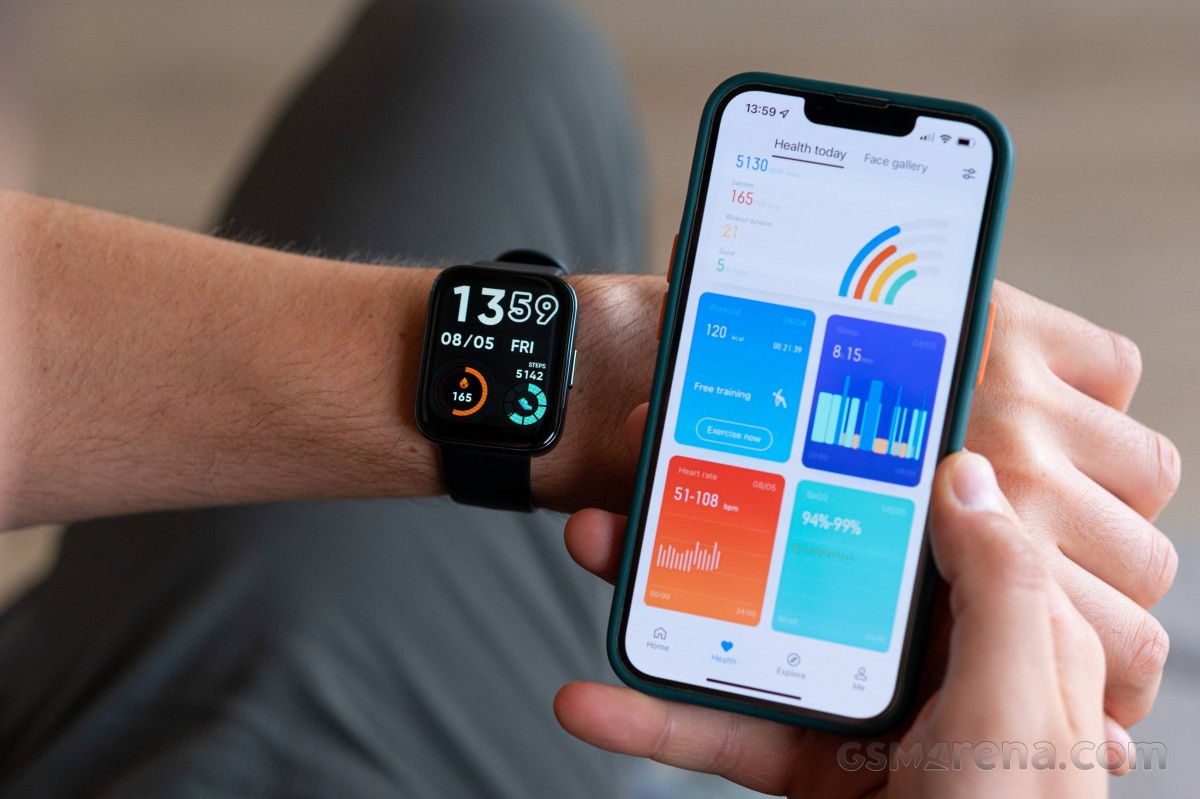 Bluetooth calling on the Watch 3 is pretty useful and worked flawlessly during my testing. You can dial numbers directly on the watch via a miniature keypad or even transfer some of your favorite contacts on the watch. You can also start a call on your phone and then transfer it to the watch. The signal is strong enough thanks to the dual-mode Bluetooth chip so that you can leave your phone in one room and walk around during a call without any drops in call quality.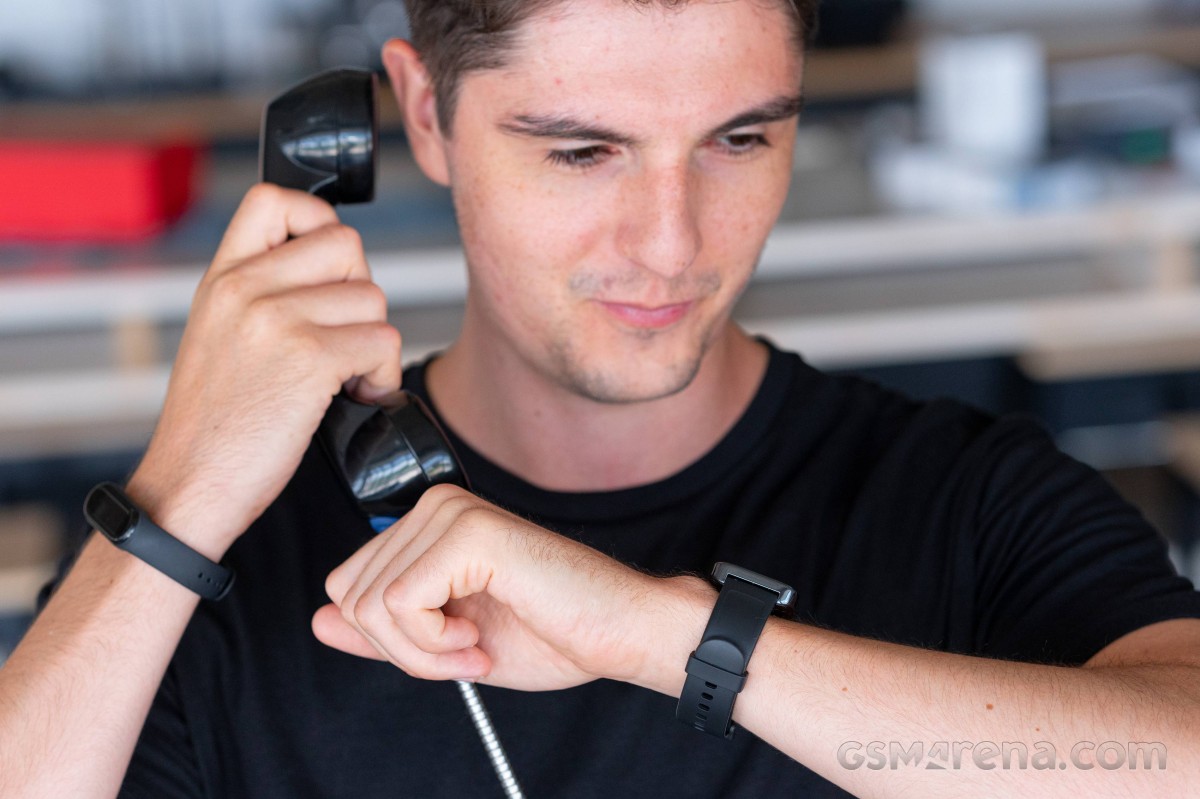 Watch 3's speaker is loud enough during calls even outdoors and the microphone pick-up is good enough for most use cases though you still need to lift your wrist closer to your mouth which feels awkward. During calls, people on the other end reported my voice as clear though disturbances like wind and car traffic would muffle up the conversation. Realme boasts about its AI noise reduction algorithm though an extra microphone would be a more optimal solution to combat disturbances.
Battery Life
Realme claims you can get up to 7 days of usage out of the Watch 3 and in our testing we found these values accurate with lighter usage though I got 5 days on a single charge.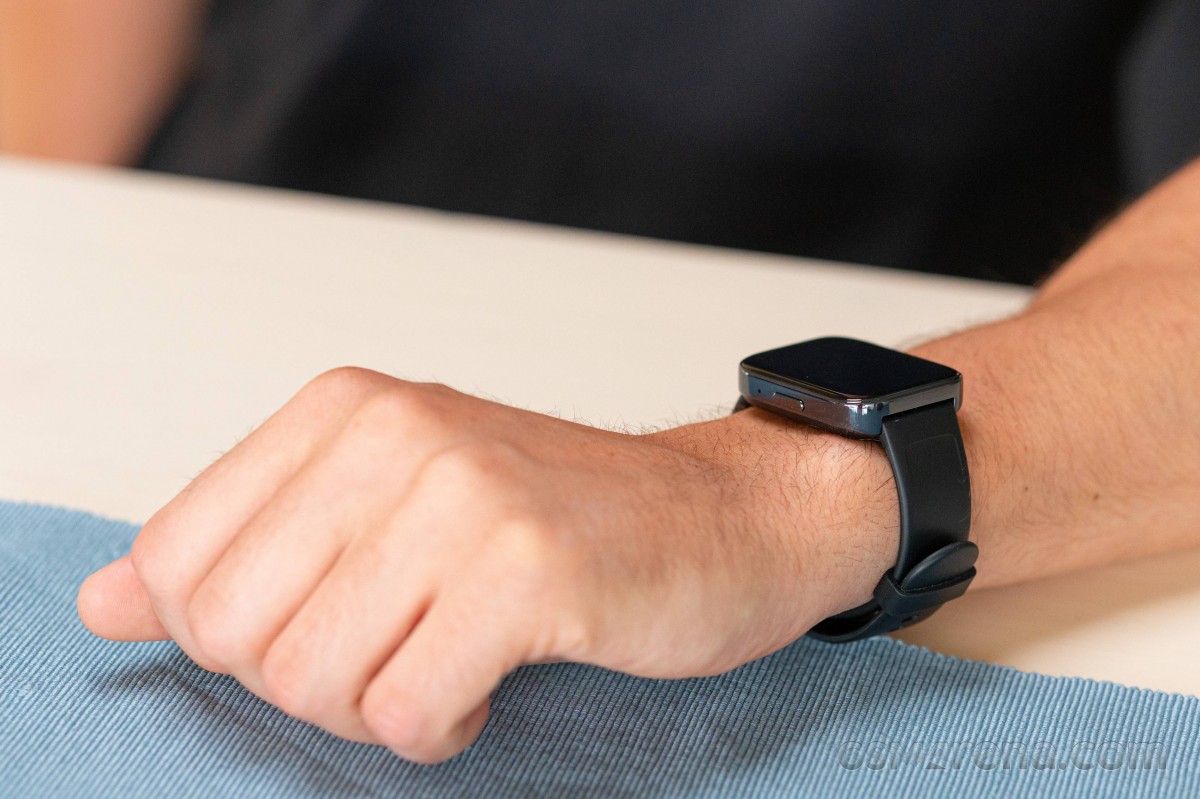 My Watch 3 use case included constant notifications from all apps on my paired phone, 40% screen brightness with raise-to-wake enabled, 24/7 heart rate, SpO2, sleep and stress measurements as well as three to four workouts per week. The watch also gets a power-saving mode which only shows you the time and date. A full charge takes just over two hours.
Verdict
Realme Watch 3 is an iterative upgrade to last year's Watch 2. The big new feature this year is Bluetooth calling which works well and is not usually promised for watches at this price point. Watch 3 is entirely made from plastic though it looks more premium than its predecessor and it's still light enough on the wrist. The slightly larger 1.8-inch screen and slimmer bezels are welcome addition though the lower resolution and peak brightness levels are not ideal.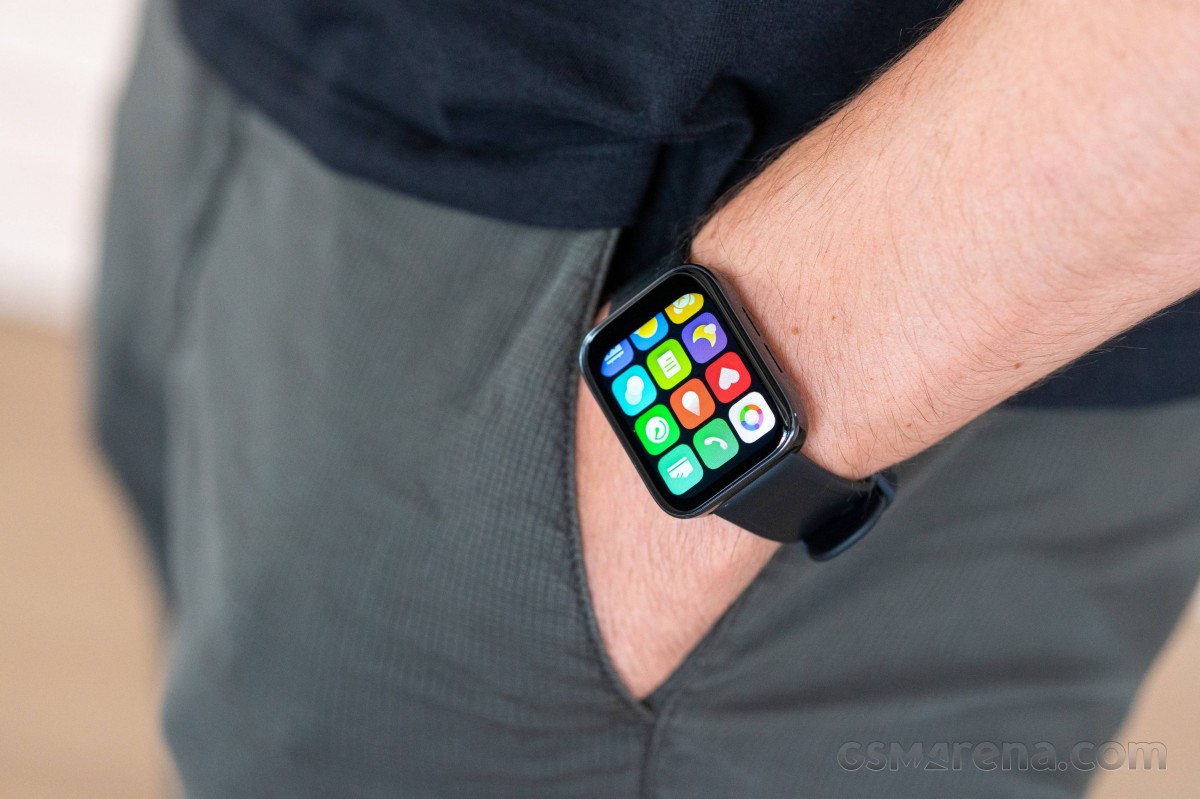 Health and fitness tracking are on par with other watches and smart bands in this price range. A dedicated GPS sensor and a nicer OLED screen are two of the missing pieces that would make this watch an easy recommendation. Realme Watch 3 is a good value smartwatch that delivers capable health and fitness tracking as well as Bluetooth calling which is not always a given at this price point.
Pros
Bluetooth calling
Lightweight design
Solid battery life
IP68 rating
Cons
Iterative upgrade over Realme Watch 2
Lower resolution display (still LCD)
No auto brightness
Not swimproof